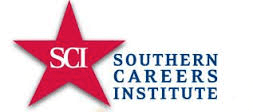 Automotive Service Technician
(Apprenticeship Program)
Train for a Career the Texas Way
Southern Careers Institute has been an established Texas institution for more than 50 years, providing students with the professional skills necessary to start a career – and later advance – in their chosen field.
At SCI, we realize and embrace that each student is different. We do our best to understand every student's needs and goals, and create individual plans of action for success. From the moment you first step foot on campus through graduation and beyond, we dedicate ourselves to helping you reach further than you ever thought possible.
Program
The Automotive Service Technician apprenticeship program at Southern Careers Institute is an innovative learning experience that is used as a complete curriculum solution to manage and deliver a hybrid classroom program that is perfectly suited for today's student combined with a comprehensive, hands-on apprenticeship led and taught by industry specialized automotive service experts.
This program will provide students with the engaging, interactive content that they desire while the apprenticeship develops the students into a proficient, dedicated team member that understands the needs and culture of the sponsoring company.
Learn While You Earn with Paid On-the-Job Training
Complete Program in 9 months
Work with Local Dealerships like Group 1 Automotive
Approved by the Workforce Innovation and Opportunity Act and Funded by the Texas Workforce Commission
No Experience Necessary
Need more reasons to choose Southern Careers Institute? At SCI, you'll have access to:
Financial aid available for those who qualify
Interactive, hands-on training for the real world
Personalized attention from experienced instructors who know you by name and care about your success
Externship and on-the-job training opportunities
Career placement assistance
Programs approved for VA funding
Join a Texas tradition rooted in success - become a member of the SCI family!
*Not all programs available at all locations
Accreditation
Southern Careers Institute is accredited by the Commission of the Council on Occupational Education.
Council on Occupational Education
7840 Roswell Road, Building 300, Suite #325
Atlanta, GA 30350
Phone (770) 396-3898
Toll-Free (800) 917-2081
Southern Careers Institute locations are approved by the Texas Workforce Commission, Career Schools, and Colleges.
Texas Workforce Commission, Career Schools and Colleges
101 East 15th Street, Rm. 226T
Austin, Texas 78778-0001
Phone (512) 936-3100
For more information about our graduation rates, the median debt of students who completed the program and other important consumer information, please visit http://www.scitexas.edu/about-sci/consumer-information/.
Fill Out the Form and Get Started Today!